Group, Social responsibility |
10.30.2019
Legrand publishes its Diversity and Inclusion policy
Already enshrined in the Group's Charter of fundamental principles, the values of diversity and inclusion have now been more specifically formalised in a dedicated Diversity and Inclusion policy document.
This Diversity and Inclusion policy has two main aims:
• to define guidelines which are to be reflected in the Group's decisions and processes;
• but also to involve all of the Group's teams to ensure they contribute daily to its application by accepting and valuing differences.
This policy is mainly structured around 5 objectives: gender diversity, inclusivity towards people with disabilities, intergenerational collaboration, Social and cultural diversity, inclusion of LGBT+ people.
Legrand firmly believes that diversity and equal opportunity lead to greater well-being, growth, economic development and competitiveness. As a responsible player, it intends to ensure this vision is shared by its entire business ecosystem. By doing so, the company contributes to the Sustainable Development Goals defined by the United Nations (Nos 5/8/10).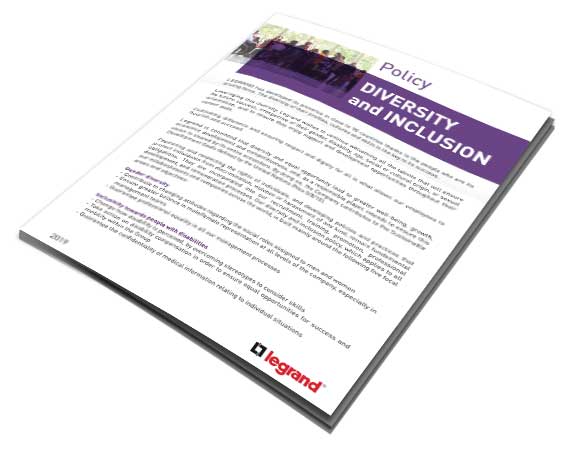 Access Legrand's Diversity and Inclusion Policy