What are smart light switches?
Smart light switches are home automation devices that use WiFi to communicate between the light switch and your smartphone, tablet or computer in order to offer customized control of the lighting in your home. Some can even be voice-controlled through home automation systems and apps. Smart home light switches come in two types: in-wall, which are permanently installed using your home's existing wiring, and on-wall, which are typically affixed to the wall, operate on battery power and are typically a better choice for renters. Most smart light switches require setup using a mobile app. Smart switches simply turn your lights on and off; they don't allow for dimming or changing colors unless you're using compatible bulbs. When paired with smart bulbs, smart light switches can turn lights on and off, adjust their brightness and cycle through your preferred color combinations (often called scenes). In addition to turning your lights on and off, dimming them and controlling your scenes, smart light switches can provide other features that allow even more in-home customization, such as controlling ceiling fans and other hard-wired appliances. The word "smart" in "smart home" refers to the system being aware of the state of its devices via smart home light switches, for example, and is made possible through the use of the internet.
What is a "connected home"?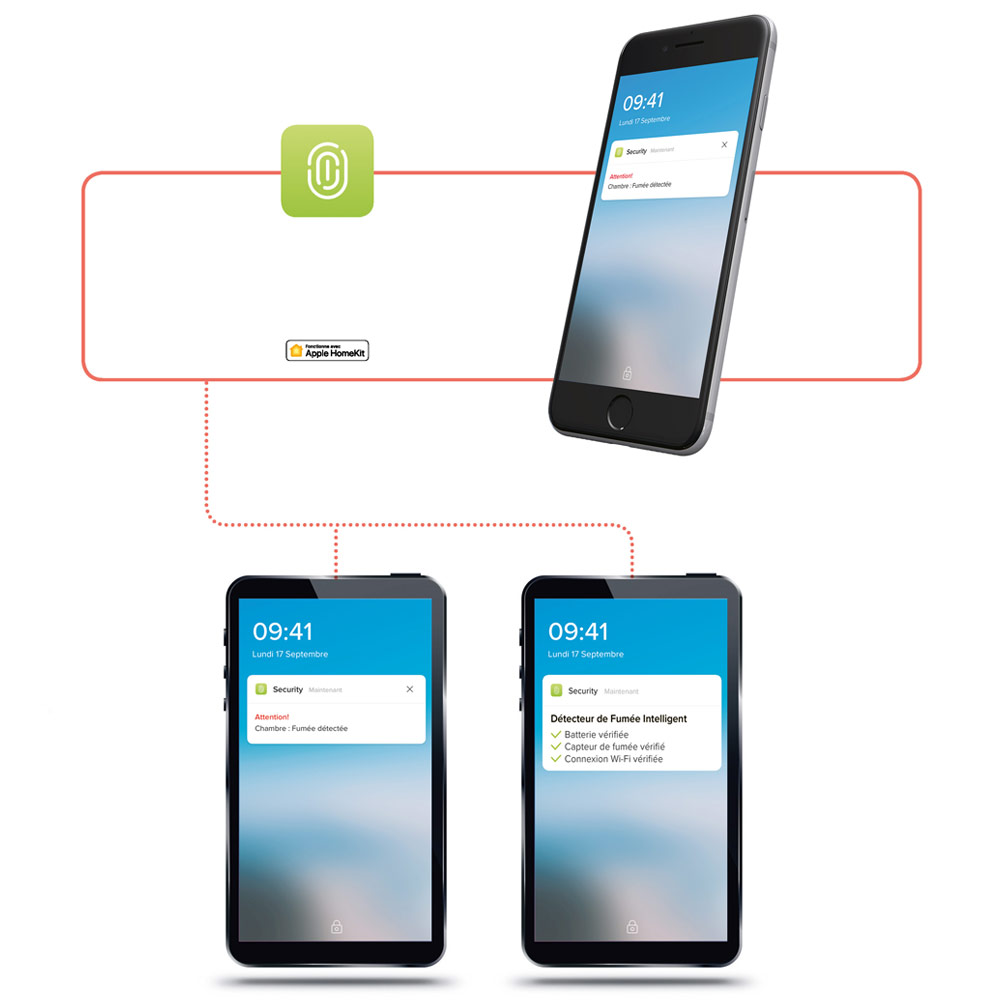 A connected home is one that uses smart home automation to monitor and/or control systems within the home, such as lighting, heating, air conditioning, appliances, entertainment systems and home security. A home automation system typically connects all controlled devices to a central hub or "gateway". The user interface for controlling the system includes wall-mounted terminals, tablets, desktop computers, mobile phone applications or web interfaces that are also accessible offsite via the internet. Increasingly, these systems also have the ability to operate via voice control. Just by speaking into your phone or a wireless speaker and using phrases such as "Set the oven temp to 350 degrees", "Close the shades in the bedroom" or "Start the coffee maker", you have the ability to get things done. Additionally, the use of smart home automation allows you to monitor your home for anything amiss, such as doors or windows being opened, smoke alarms going off, refrigerator doors being left open and water leaks. You can also use smart home automation to monitor your home while you're away and even check in on your pets.
Contrary to what many might think, home automation is not a new concept. The idea has existed since the early part of the 20th century though, of course, it would be decades until it would come to fruition. Interestingly, though it ended up being nothing more than a novelty, The Clapper was actually one of the first widely-accessible forays into home automation. Introduced in 1984, it was a sound-activated remote control electrical switch into which household appliances such as lamps and televisions were plugged. These appliances could then be turned on and off with a clap of the hands. In the late 1990s and early 2000s, home automation began to take off, thanks to the continued evolution of the internet, and smart home automation gradually became more affordable and accessible. Nowadays, with so many in the world having access to the internet in addition to a smartphone, tablet or desktop computer, smart home technology has never been more accessible. Home automation offers more and more conveniences, and its worldwide market is growing rapidly. In 2019, it was estimated to be worth $5.7 billion and is expected to reach $12.2 billion by 2027.1
Benefits of connected light switches
The convenience of controlling lights remotely
Most would recognize that the main benefit of smart switches is their convenience. Smart light switches enable you to easily control your lights with your phone, tablet or computer. Remote light switches range from the most basic on-off and dimming functions via voice control or an app to more sophisticated functions such as lights that turn on automatically when you enter the room, smart dimmers that automatically adjust your bedroom lighting, for example, allowing you to wake up slowly, and programming that automatically switches off all your lights each time you leave your house. Convenience is the number one advantage of remote control light switches. However, there are several other advantages, including the following:
Security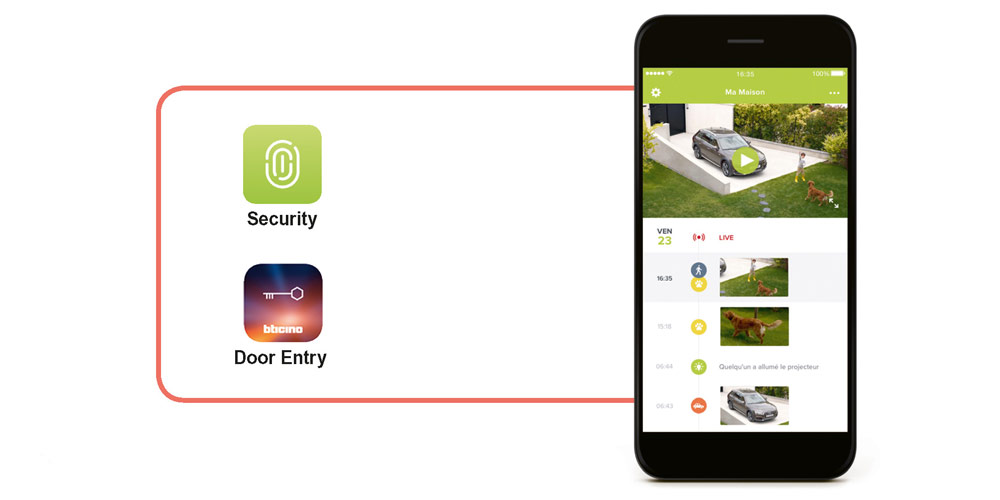 In addition to the convenience of controlling lights remotely, smart light switches offer the added benefit of increased security for you and your home. Remote controlled lighting systems may especially be of interest to you if you worry about coming home to a dark house. Outdoor lighting linked to motion sensors can light up your yard when the sensor is triggered, making smart outdoor lighting a great first step toward a more secure home. Additionally, through the use of your phone, you can turn your lights on before you arrive home or have them synced to a geocaching system for even more convenience. When you pass within the pre-set perimeter of your home's geofence, your lights automatically turn on. Smart light switches are a convenient way to ensure that you're coming home to a safe and well-lit house.
If you're away from your home, whether for just a few hours or for a more extended period of time, there are several systems in a smart home that can be controlled remotely. For example, you can monitor and control your home's security system, so you'll be notified immediately in the event of a security breach. Additionally, for those living in cold climates, you can monitor your home's heating system to avoid the catastrophe of having your furnace go out and your pipes freeze while you're away. With respect to lighting, you can control your lights via smart light switches, giving the appearance of someone being home when no one is. You can set your lights on a timer so they turn off and on during pre-designated times of the day. Or you can choose to turn them off and on at random. Thieves tend to target homes they believe to be unoccupied. Remote light switches actually serve as security light switches; you can easily and conveniently make it seem like you're home when you're away, even for extended periods of time.
Energy savings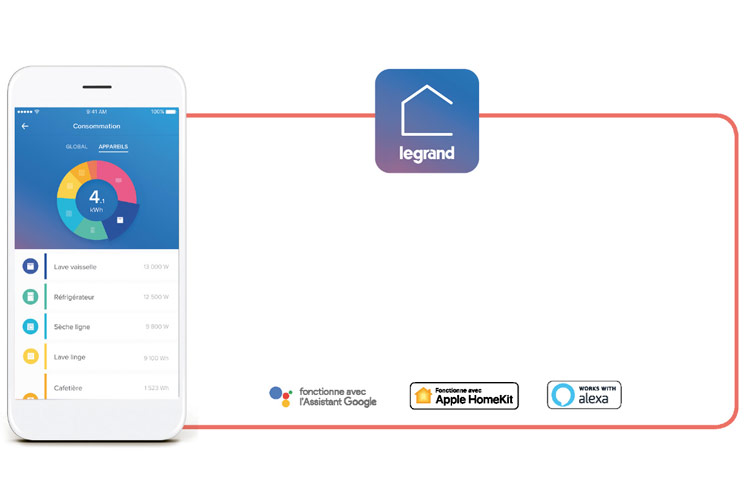 Smart homes can help save energy, making them both eco-friendly and cheaper to operate than non-smart homes. Rather than forcing you to change your habits: for example, learning to live with your thermostat set at a lower temperature, they "learn" about your habits (i.e., the ways in which you use your home) and use this information to help you avoid using energy when it's not needed. In fact, when used optimally, smart homes are estimated to save 30-40% in terms of energy costs. Since lighting represents a sizable portion of a home's energy usage, installing smart light switches can help save considerable amounts of money.
Let's face it - the average person frequently forgets to turn off their lights. Whether we fail to flip the switch on our way out of a room or we leave the lights blazing when we're not home, we end up wasting money by unnecessarily leaving our lights on. To reduce our utility bills, we could change all our lightbulbs to more energy-efficient ones, and that certainly can have a big impact. We could also simply try to be more conscientious about turning our lights off. It certainly can't hurt! However, why make things more difficult than we need to? Smart light switches can do much of the work for us. Below are a couple of the most effective ways we can use smart home lighting switches to reduce our utility bills and save energy:
Motion detector switches
Motion detector smart light switches allow you to forget about turning your lights on and off as you enter and leave the room. When they were first introduced, they were rather expensive, but like everything else in the world of technology, they've come down in price and are now extremely accessible. Smart lights can work in conjunction with a motion detector system and can save significant amounts on your current light bulb energy usage. Instead of constantly having to remember to turn your lights off and on, you can simply allow the motion detectors to do it for you. The lights come on when you enter the room and turn off when you leave the room. What could be easier?
Variable light switches
Variable light switches with ambient light sensors can sense the amount of daylight in a room and adjust the lighting when there's enough daylight to make full illumination unnecessary. The lights don't needlessly operate at full power, allowing dimmer light switches to help you save money.
How to connect a smart light switch ?
WiFi-controlled light switches are switches that use your existing home WiFi network to provide wireless control of your lights. Generally speaking, WiFi is what's used for most smart light switches. WiFi is the way most of us connect our numerous devices to the outside world, including computers, mobile devices, smart televisions, video game controls and much more. Once you install your smart light switch on your wall, you'll need to connect it to your home WiFi network, and you'll need to download the appropriate app to do this. The app will prompt you to add a device, perhaps name it, and to confirm the addition. Once your smart light switches have been added to your network, you can log in and begin to directly control your lights from your phone, tablet or computer via the app. However, one important point to note is that if your WiFi goes down for any reason, you lose this control. It's also important to note that WiFi light switches are generally more expensive than other solutions.
Bluetooth connected light switches are typically a cheaper alternative you can use to provide direct control of your home's lighting from your smartphone, tablet or computer. Unlike WiFi-based light switches, Bluetooth operated switches don't require gateway modules to operate, which makes them easier to set up. You simply need to pair the smart light switch directly to your device. One major drawback to Bluetooth light switches, however, is that they don't allow you to control your lighting when you're outside the Bluetooth's range, and this range is usually quite short. This means you can't control your lights outside of your home. You can, however, schedule them to turn on/off at certain times before you leave.
Smart light switches offer customized control of the lighting in your home and are controlled by a wireless signal. They offer numerous advantages, such as allowing you the ability to remotely turn your lights on and off, to configure them to turn on and off automatically via a motion detector, to adjust their brightness or to cycle through different color and brightness combinations called scenes. Most smart light switches require setup using a mobile app. In addition to turning your lights on and off, dimming them and controlling your scenes, smart light switches can provide other features that allow for even more in-home customization. In addition to the convenience of controlling lights remotely, smart light switches offer the additional benefits of better security, increased energy savings and eco-friendliness. Manufacturers will continue to take advantage of the growing market for remote-controlled lighting by introducing ever-evolving options. It's a sure bet that our options for smart lighting will only increase and that we'll see more and more features offering more and more conveniences, many of which we haven't yet even dreamed of! The sky is truly the limit, and we're looking forward to seeing what's next.