How to choose a light switch
Home
Light switches are an integral part of a home's mechanics and are used to control numerous electrical devices such as light fixtures, lamps, ceiling fans, home appliances, home ventilation systems, roller shutters and outdoor lighting. In simple terms, they work by opening and closing the electrical current that runs from a home's electrical panel to a light fixture or lamp.
The first light switch was invented in 1884 by John Henry Holmes, a British electrical engineer and inventor. Holmes came up with a new technology he named the "quick break mechanism." This new technology caused the internal contacts in a light switch to break apart quickly enough to prevent the electric arcing that normally took place and posed a significant risk of fire. After the invention of the first light switch, the dimensions, design and overall look of light switches continued to evolve over time. Early evolutions include the toggle switch, invented in the early 1900s and the dimmer switch, first appearing in the 1950s. The last decade or so has brought significant advances in light switch technology through the advancement of electronics and smart technology - to the point where automation of a home's entire lighting system is now a reality. Although modern light switches have greatly evolved since their invention, the quick break technology invented by Holmes is, in fact, still found in homes throughout the world, and these types of basic switches number in the billions.
Choosing the right light switch for the room
The single-pole switch (also called a 2 way light switch) is the simplest and perhaps the most common type of light switch. It controls a single light fixture (or electrical outlet) from a single location and is perfect for smaller rooms that don't require many light sources. Most switches in a typical home are single pole. Single pole light switches have two brass terminal screws and a toggle labeled ON and OFF, and most also have a grounding screw that connects to the circuit's ground wire. One terminal connects to the electrical wire coming from the home's electrical panel while the other serves as the outgoing hot wire that connects to the fixture. A double light switch is a type of single pole switch that has two switches for controlling two light fixtures from a single location, for example, an overhead light fixture and a lamp.
For rooms or other spaces requiring additional lighting solutions, there are additional options that offer the ability to control lights from more than one location. A 3-way switch controls a single bulb from two different locations, and so on for the 4-way switch. The typical home has several rooms in which the use of water is required, for example, kitchens, baths, laundry rooms, outdoor spaces and even spa rooms. When water and electricity come into contact with one another, a significant risk of electric shock exists, and this can have deadly consequences. For this reason, special requirements exist for light switches and electrical outlets in these rooms. With the trend toward creating luxurious and spa-like bathrooms, for example, there are more and more electrical appliances installed in these spaces, and they require very specific solutions as determined by local electric codes. Generally speaking, a waterproof light switch is the ideal (and oftentimes the only) solution for these types of rooms.
Another type of light switch, the illuminated LED dimmer switch, has a locator light which allows it to be seen in the dark. It works via an internal circuit which is activated only when the switch is in the off position and provides just enough electricity to light up the rocker. The LED illuminated switch is the ideal choice for rooms or spaces that otherwise tend to be dark, such as basements, hallways, garages and laundry areas. A pilot light switch is another type of illuminated light switch, but it works in the opposite way, lighting up when the switch is in the ON position and serving as a helpful reminder for a light that's out of sight of the switch (e.g., an outdoor, basement or closet light) that's been left on.
Materials and styles of contemporary light switches and switch plates
The choices are almost limitless when it comes to materials and styles of light switches and switch plates. In addition to their functionality, when coordinated well, light switches and decorative light switch covers can complement a home's overall look. Following are a few of the most popular styles:
Vintage Industrial Light Switch Cover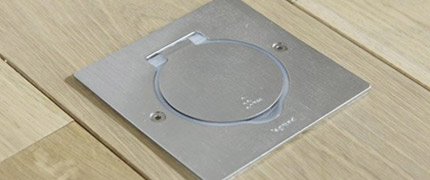 Vintage industrial light switches and switch plate covers are a popular choice for loft apartments or industrial spaces. They feature chunky metals in gleaming or tarnished finishes. Their clean, simple lines and substantial look perfectly complement a brick or stone wall and tie in nicely with the exposed mechanicals (pipes and ductwork) that are often seen with this style.
Traditional Light Switch Cover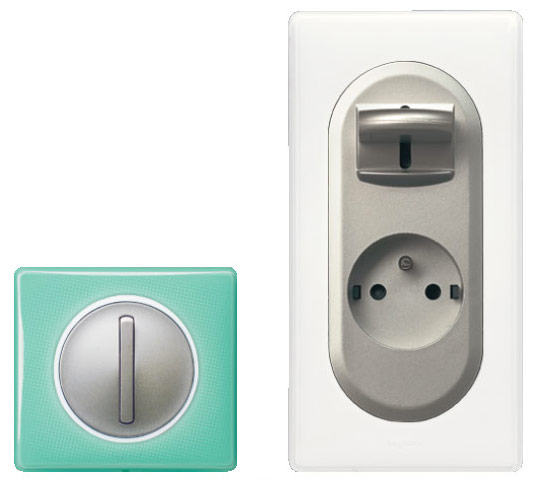 The most traditional light switches and switch plates feature push-buttons with two round knobs protruding about 1/2" from the cover. The lights are turned on and off by pushing the buttons - the top for ON and the bottom for OFF. Though traditional in style, today's push-button switches come with 3-way and 4-way options, and some can even be dimmed. Other traditional switch plate styles include Colonial style in various shades of brass with classic beveled edges, cottage style featuring the elegant look of white wainscoting and French country ceramic switch plate covers with simple floral motifs à la Provence.
Art Deco Light Switch Cover
Another popular traditional style for light switches and switch plate covers is the Art Deco style. This style has been a longtime favorite for showcasing the enchantment of the 1930s jazz era. The Art Deco style features sharp edges and a streamlined appearance and plays with geometrical forms such as zigzags and chevrons.
Choosing the right color switch and switch plate for a room's décor
Just like choosing the right material and design, choosing the right color of light switches and switch plates can greatly complement a home's overall look. However, given the vast array of choices, it can also be a bit overwhelming. Fortunately, it's easy to periodically change them to keep up with evolving styles and tastes. Keep in mind the long term appeal of a finish, how well it complements or matches the switches or plates and how colors can be used for dramatic effect. Here are a few home color trends and ways in which switch and switch plate colors can complement these trends:
Grey Light Switch Cover
Grey is a trend in home fashion that doesn't seem to be going away anytime soon. And even if walls start to move toward other colors (as walls often do), the extensive use of grey continues to be seen in a home's more permanent fixtures such as cabinetry, flooring and even stainless steel appliances. These things can't be changed out as easily, so grey is a color that'll probably be around for a while. As such, stainless steel, aluminum, polished chrome and brushed nickel are all good choices for switch plates to complement grey tones elsewhere.
White Light Switch Cover
White continues to be the most popular choice when it comes to both switches and switch plates and is generally seen as the standard. White blends seamlessly and typically won't detract from the overall room's decor. It also adds a crisp, clean look. Additionally, because of white's popularity, the greatest range of electrical switches, outlets, dimmers, motion devices, sound systems and home security controls are available in white, making it an easy choice.
Ivory Light Switch Cover
Ivory is another popular choice that has stood the test of time. It tends to have a more traditional feel than white so it fits in well with traditional warm-colored decor and travertine backsplashes and floors, for example. Ivory switches pair well, of course, with matching ivory switch plates for a uniform look, but colors like polished brass, satin brass, antique brass and oil-rubbed bronze can pop nicely when paired with an ivory switch.
Black Light Switch Cover
Black is universally seen as one of the most sophisticated colors and easily adds an understated, yet dramatic and modern touch. Black switches and switch plate covers make a bold fashion statement on behalf of a home's decor. Since the eye tends to be drawn toward lighter colors, black switches and switch plate covers blend in nicely against a dark wall. In kitchens and bathrooms, black also coordinates well with marble or granite countertops and backsplashes.
Light switches are an integral part of a home's mechanics and are used to control numerous electrical devices. In the simplest terms, they work by opening and closing an electrical current running from a home's electrical panel to a light fixture or a lamp. They've been around since the late 1800s and are far more than just functional. With just a bit of effort and planning, they can become an integral part of a home's decor and can add to an overall cohesive look. And as an added bonus, they can easily be swapped out as styles and tastes evolve. We've just showcased some of the many options when it comes to light switches and switch plate covers, but there are virtually unlimited possibilities. With a little bit of research and careful selection, you can choose the perfect switches and switch plate covers to make your home stand out and serve as an expression of your own personal style.